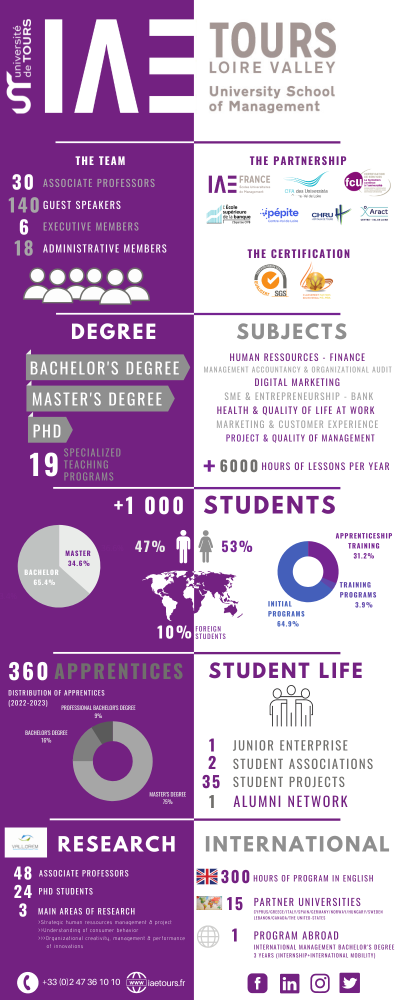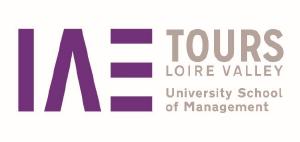 The IAE Tours Loire Valley Graduate School of Management is one of the departments of the University of Tours and is a member of IAE France. It has specialised in Management and Business sciences for more than forty years.
Every year, IAE Tours Loire Valley welcomes more than 1000 students and professionals from Bachelor to PhD level in all management specialities including marketing, finance, management controls, human resources, international management, project management and entrepreneurship. Research and training are its core activities. It produces both specialised and dual-competence managers.

For more than 20 years, IAE Tours Loire Valley is based on academic research in management sciences (conducted in the VALLOREM laboratory) and has a vast network of professional partners. IAE Tours Loire Valley is proud to through education and research.
IAE Tours Loire Valley owns a Qualicert certification : an incentive tool to promote continuous improvement and quality in training and services. This certification is renewed each year.
IAE Tours Loire Valley develops talent:
• At undergraduate (L1-L2-L3) and graduate (M1 & M2) levels with management courses in English. Exp : management case study, project management, global business, etc.
• In full-time study programs and, in work and study programs;
• In Entrepreneurship, Finance, Human resources, Management controls, Marketing, and Project management.